Black Tea Blend

3 minutes in 212° water

Caffeinated
9 Servings

Gluten Free

Plant Based Pyramid Tea Bags
Bruleed apples bobbing in gingered caramel
Regular price
Sale price
$12.00 USD
Unit price
per
Sale
Sold out
RICH. CREAMY. COMPLEX.
Brûléed apples bobbing in gingered caramel.

"Wonderful tea hot or cold! Hate that it is seasonal, but it gives me something to look forward to!"
– Laura
Ingredients: Ceylon Black Tea, Apples, Cinnamon, Ginger, Orange Rind, Star Anise, Licorice, Organic Caramel Flavor, Black Pepper
Caffeinated
Brew at 212 degrees for 3.5 minutes
Packaged in our hand-printed muslin bags, you'll find 9 pyramid sachets of tea ready to brew and waiting for you.
Ingredients: Ceylon Black Tea, Apples, Ginger, Cloves, Licorice, Star Anise, Orange Rind, Black Pepper, and Cinnamon
Share
View full details
Caramel Apple Pie
Imagine this Blend:

Bustling leaves and friends coming together in cooler weather only can be helped by sweetness. Freshly harvested, late fall, cellar-root apples lend a crisp note to the decidedly creamy, mellow, and caramel-laced black tea.

Steeping Information

Bring 10-12 oz of water to 212.

Steep for 3 minutes

Ceylon Black Tea, Apples, Ginger, Cloves, Licorice, Star Anise, Orange Rind, Black Pepper, and Cinnamon

These are the Ingredients. Straight from the Farm, Forest, & Briar Patch.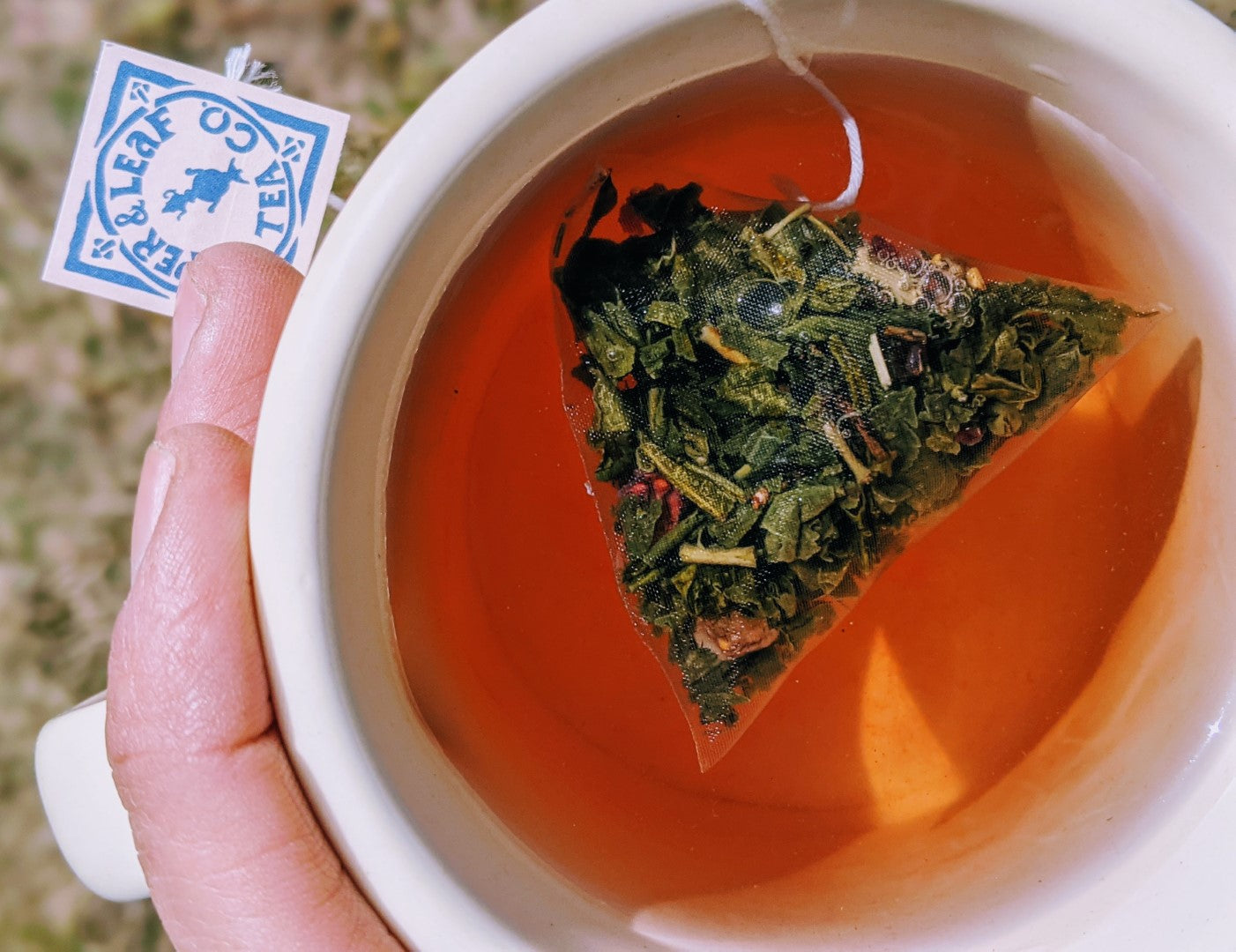 Tea Bags Made From Plants
Love it!
I will forever buy Piper & Leaf tea!
Kind of flavorless
I was very excited to receive this, but found the flavor to be weak.
Great new tea!
I am really enjoying my new Caramel Apple Tea! The flavor is rich and bright without being cloying like some fall flavors. There is just the right amount of caramel to balance out the spices which don't overpower the apple. Another win for Piper and Leaf!
Didn't deliver on apple or ginger flavor
I found this tea to have a weak, one-note caramel flavor and the apple and spice were barely detected, if at all. It could just be my palate, but I was disappointed. I wish this tea had more spice and zip to it. For reference, one of my favorite teas is a cinnamon, ginger and orange tea that tastes a bit like a hot tamale candy and smells amazing. This tea is not that. It is mild, and for me, bland. If you don't like strongly flavored tea, this might be perfect for you, but it's just not for me.
Hi Whitney,
Thanks the review! We're sorry that you feel like our tea flavor wasn't as strong as you were expecting. We try to keep the ingredients balanced so one flavor isn't dominating the others by a large degree. We appreciate your honesty in sharing your experience with our tea. :)
Not what I was expecting
I was trying to duplicate a tea drink I used to get from another company. This isn't it. But, that's not to say it isn't good. Very nice fall flavor that I truly enjoyed. I tried it both plain and with a little vanilla creamer in it, both hot, and really liked the flavor. I will probably buy a pound of this shortly. That good!
Five Stars
I bought some of this in a cute little antique shop in Dillsboro, Indiana. I just absolutely love this tea. I am so sorry it is seasonal, but that just means I'll have to purchase it before it's gone.
Shop More Caramel Apple Pie
You might want to get this too:
Super Sippy Travel Tumbler - Hot & Iced!
Regular price
Sale price
$28.00 USD
Unit price
per
Sale
Sold out
View full details