Black Tea Blend

3.5 minutes in 208 F° water

Caffeinated
70 Servings

Gluten Free

Plant Based Pyramid Tea Bags
Drifting jasmine, a minty breeze; true southern classic
Regular price
Sale price
$79.00 USD
Unit price
per
Sale
Sold out
SOPHISTICATED. MINTY. FLORAL.
Drifting jasmine, a minty breeze; true southern classic.
Southern Living Food Award for 2015: "Piper & Leaf's Front Porch Special Produces the Perfect Pitcher of Iced Tea"
-Southern Living, June 2015 Issue
"I am very picky about my tea, so I was skeptical about how good Piper and Leaf tea would be but after tasting Front Porch Tea I am convinced it is the best loose leaf tea I have ever tasted. I ended up ordering the gift jar special. So happy that I found Piper and Leaf tea.
P.S. I love the story of how the company got started!"
-Kyle (Front Porch Special Loose Leaf Jar)

This massive bag of sachets will make 70 servings of tea. This is the perfect way to refill a Self Serve Station when the tea bags are running low!
Keep the bag sealed tight in a dry place and your tea bags will stay fresh and delicious for years!
Ingredients: Ceylon Black Tea, Assam Black Tea, Spearmint, Jasmine, Cornflowers, Bergamot Oil
Caffeinated
Brew at 212 degrees for 3.5 minutes
Ingredients: Ceylon Black Tea, Assam Black Tea, Jasmine Blossoms, Cornflowers, Spearmint, and Bergamot Oil
Share
View full details
Front Porch Special
Imagine this Blend:

Exactly what it sounds like. All the aching and crisp nostalgia of a hot-weather, portico-framed sunset, accompanied by a cicada symphony. Local jasmine and spearmint collaborate with bergamot-infused Assam and Ceylon black tea leaves to pull off this sublime take on Americana.

Steeping Information

Bring 10-12 oz of water to 208 F.

Steep for 3.5 minutes

Ceylon Black Tea, Assam Black Tea, Jasmine Blossoms, Cornflowers, Spearmint, and Bergamot Oil

These are the Ingredients. Straight from the Farm, Forest, & Briar Patch.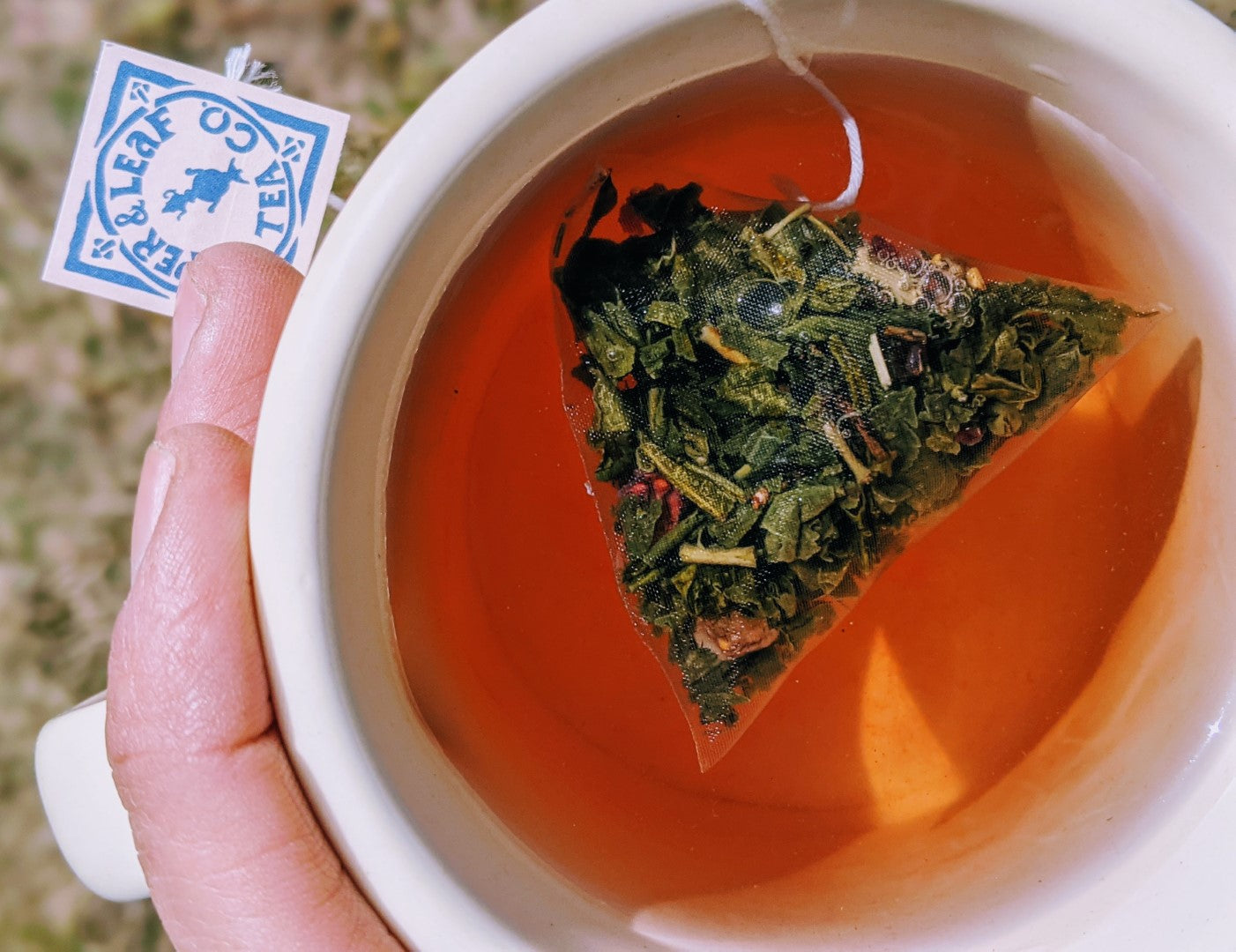 Tea Bags Made From Plants
Front porch tea
This tea is so refreshing! It's like a summer day in the south and I love it!
Front Porch Special
Front Porch Special is a wonderful tea blend hot or iced. I have given the 9 count pack as a gift to several friends and they all enjoy it as much as I do
Very Refreshing
This is a very good blend. It has a refreshing flavor. My entire family loves it!
Five Stars
This is my absolute favorite for making iced tea. I travel an hour and a half just to purchase it! It is very smooth with hints of mint. Very refreshing!
Five Stars
I'm hooked on this tea! It's so refreshing with a perfect blend of flavors. The iced tea is my favorite but a cup of this hot tea doesn't disappoint on a cold morning.
Five Stars
This is my favorite tea. I make Iced Tea almost daily and this provides a wonderful depth of flavor.
Shop More Front Porch Special
You might want to get this too:
Super Sippy Travel Tumbler - Hot & Iced!
Regular price
Sale price
$28.00 USD
Unit price
per
Sale
Sold out
View full details