Regular price
$159.99 USD
Regular price
Sale price
$159.99 USD
Unit price
per
Sale
Sold out
AMAZING BUBBLE TEA AT HOME
This Deluxe Boba Tea Kit has everything you need to make delicious bubble tea drinks at home! The included Boba Brew Guide will teach you how to prepare tapioca boba pearls and brew concentrated tea using the 'Piper Process' and our awesome tea dripper.

Concentrated tea can be used to make bubble tea, hot tea, iced tea, other specialty drinks, and more! Concentrated tea is our favorite way to brew because of its ease and versatility. With this dripper, it's so easy to brew perfect, tea-shop-quality teas in your own home!
Included:
- A 2.2lb bag of Boba (tapioca pearls)
- Two Essential Bags of loose leaf tea
- A Pint jar, a boba lid, and a metal boba straw
- A Quart jar, a solid lid, and a pour spout lid (for storing and pouring)
- A Glass Tea Dripper (for tea brewing) & a backup steel ball (just in case)
- A Metal Drip Stand (for the Dripper)
- A Piper Mini Measure (for measuring and mixing)
- A Boba Brew Guide
Easy to use, clean, and store. Start brewing today and enjoy boba tea any time you want!
Tapioca Boba Pearl Ingredients: tapioca starch, water, starch acetate, hydroxypropyl distarch phosphate, caramel, guar gum, sodium diacetate, sodium dehydroacetate, artificial flavor
Interested in bulk purchasing of our Deluxe Boba Kits? Check out our Corporate Gifts page!
Share
View full details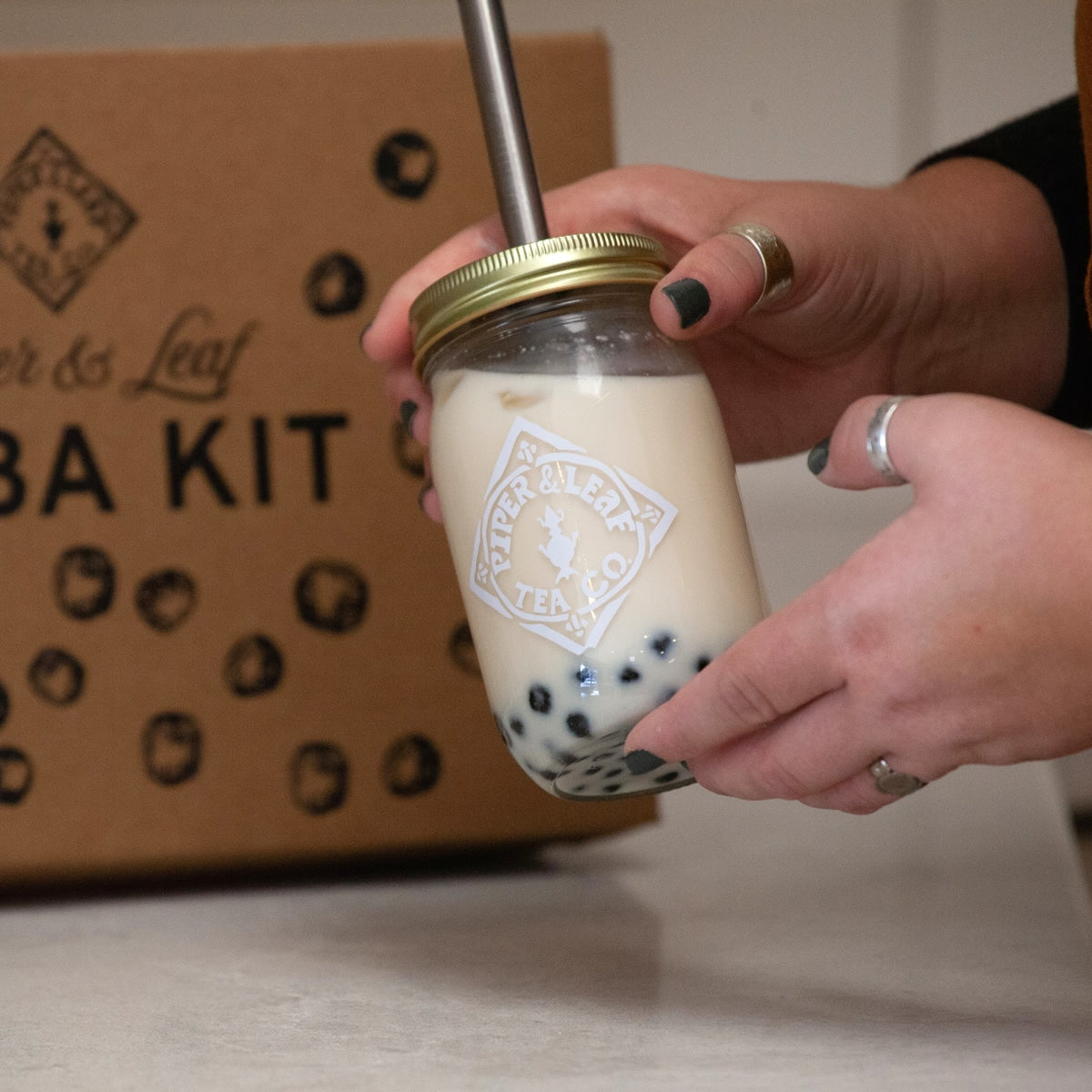 Exactly as advertised and now I can have a perfect boba tea at home.
Fantastic overall
Great company. I really enjoy gift shopping from small businesses.
Five Stars
At first I wasn't sure that anything could compare to getting tea at the boba shop. Man, was I wrong! It's so good! If I had known that having quality boba at home was possible, I would have purchased it sooner. I do wish that more tea came with this kit. The quality is top notch.
Five Stars
I love tea. I also enjoy boba tea. I bought the kit so that rather than drive 15 miles to get one I could make it at home. The kit itself is beautiful and sturdy. I am impressed when the weight of the metal stand for the dripper. I was also impressed and grateful for the brew guide that was included. The Front Porch Special blend of tea is delicious. My kids and I throughly enjoyed our beverages and are looking forward to enjoying many more.
Five Stars
The pouring spout arrived broken, but Piper and Leaf has awesome customer service and replaced it right away. I've used the kit a couple of times now, and the detailed instructions are easy to read and follow. I love the quality of the equipment. I agree with a previous review that what I make with the kit is better than what I've had at a Boba tea cafe. Awesome product and outstanding customer service.
Five Stars
I've researched for a boba tea kit and found Piper & Leaf. I'm so pleased with the high quality tea dripper, flavorful tea, and boba pearls. Thanks for making this holiday season more cheerful as I sip on a cup of homemade boba tea!