Regular price
$169.99 USD
Regular price
Sale price
$169.99 USD
Unit price
per
Sale
Sold out
Can't decide what loose leaf tea to get? Try all fifteen of our year-round blends at a great price! You'll receive full Essential Bags (35g each), each housed in a signature, hand-printed muslin bag. That's 15 servings of 15 different brews. Yes, this bundle can make 225 cups of tea! A wonderful way to sample the range of Piper & Leaf and a great gift.
Or pair the Variety Pack with a Piper & Leaf brew kit to make a full batch of Concentrated Tea for each blend; you'll get over 410 servings of tea! Talk about TEA-riffic.

Now you only need to try our seasonal blends to finish the full P&L catalog. Check back with us regularly to see what's in season!
All 15 year-round blends are included in the Variety Pack:
Briar Patch Brew
Chocola-Tea
Elderberry Elixir
Front Porch Special
Golden Hour Tonic
Healing Honeysuckle
Lemon Berry Blush
Monks Meditation
Old Fashioned Birthday Cake
Orchard Peach
Piper Mint Blues
Sassyfras Strawberry
Strawberry Shindig
Sunrise Chai
Sweetie Pie Chai
Share
View full details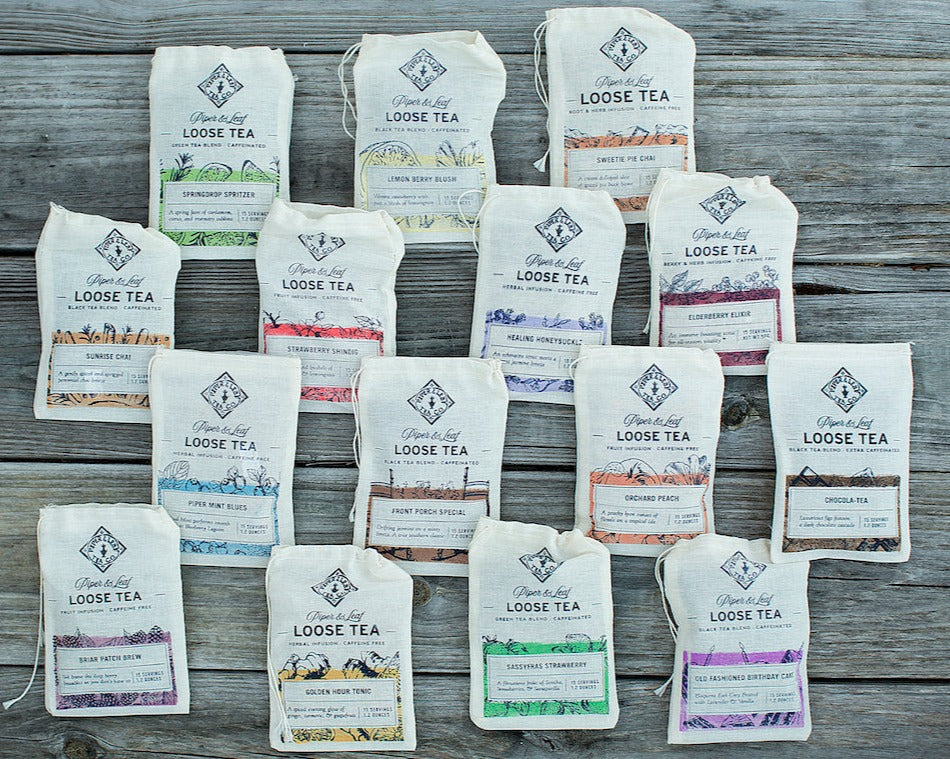 Five Stars
Delicious and refreshing flavors. The tea press is so simple to use and the concentrate is easy to store and use.
Five Stars
I had tried a few of Piper and Leafs varieties individually (Pipermint Blues, Briar Patch Brew and Summertime Chai) and was anxious to try every year long available one, so this made it so easy to do so. I've only brewed Strawberry Shindig since my order arrived, but I am so pleased to have discovered your teas and love every cup I've made!
Five Stars
I LOVE the piperleqf method of brewing and getting to try all their teas is awesome. They are all so good and this was the best way to find my favorites!
Five Stars
I wanted to try every single P&L tea. Great variety. Some I already knew I loved. Some I may not have even tried if I kept buying them one at a time. I'm still working my way through them and that is kind of fun. Finding some new favorites. I already purchased a pound bag of one of them. I recommend trying them all at least once!
Five Stars
Most amazing tea I have found! The variety pack is amazing, there is a flavor for every mood and time! My favorite part is making a huge cup, drinking it while it's hot, letting the rest cool and throwing ice cubes in it and enjoying a delicious flavored iced tea!
Five Stars
Found piper mint blues at a local plant nursery, went online and ordered the variety pack because I loved the blueberry mint so much! Now I have tea for every mood and occasion :D