Black Tea Blend

3.5 minutes in 208 F° water

Caffeinated
190 Servings

Gluten Free

Loose Leaf Tea
Drifting jasmine, a minty breeze; true southern classic
Regular price
Sale price
$99.00 USD
Unit price
per
Sale
Sold out
SOPHISTICATED. MINTY. FLORAL.
Drifting jasmine, a minty breeze; true southern classic.
Southern Living Food Award for 2015: "Piper & Leaf's Front Porch Special Produces the Perfect Pitcher of Iced Tea"
-Southern Living, June 2015 Issue
"I am very picky about my tea, so I was skeptical about how good Piper and Leaf tea would be but after tasting Front Porch Tea I am convinced it is the best loose leaf tea I have ever tasted. I ended up ordering the gift jar special. So happy that I found Piper and Leaf tea.
P.S. I love the story of how the company got started!"
-Kyle
This massive, 1-pound bag of loose leaf will make you over 190 servings of tea, 1 teaspoon at a time. If you brew batches of concentrate, you'll be able to make over 300 servings! This bag is an excellent path suited best for the truly tea-obsessed.
Keep the bag sealed tight in a dry place and your loose leaf will be fresh and delicious for years!
Ingredients: Ceylon Black Tea, Assam Black Tea, Spearmint, Jasmine, Cornflowers, Bergamot Oil
Caffeinated
Brew at 212 degrees for 3.5 minutes
Ingredients: Ceylon Black Tea, Assam Black Tea, Jasmine Blossoms, Cornflowers, Spearmint, and Bergamot Oil
Share
View full details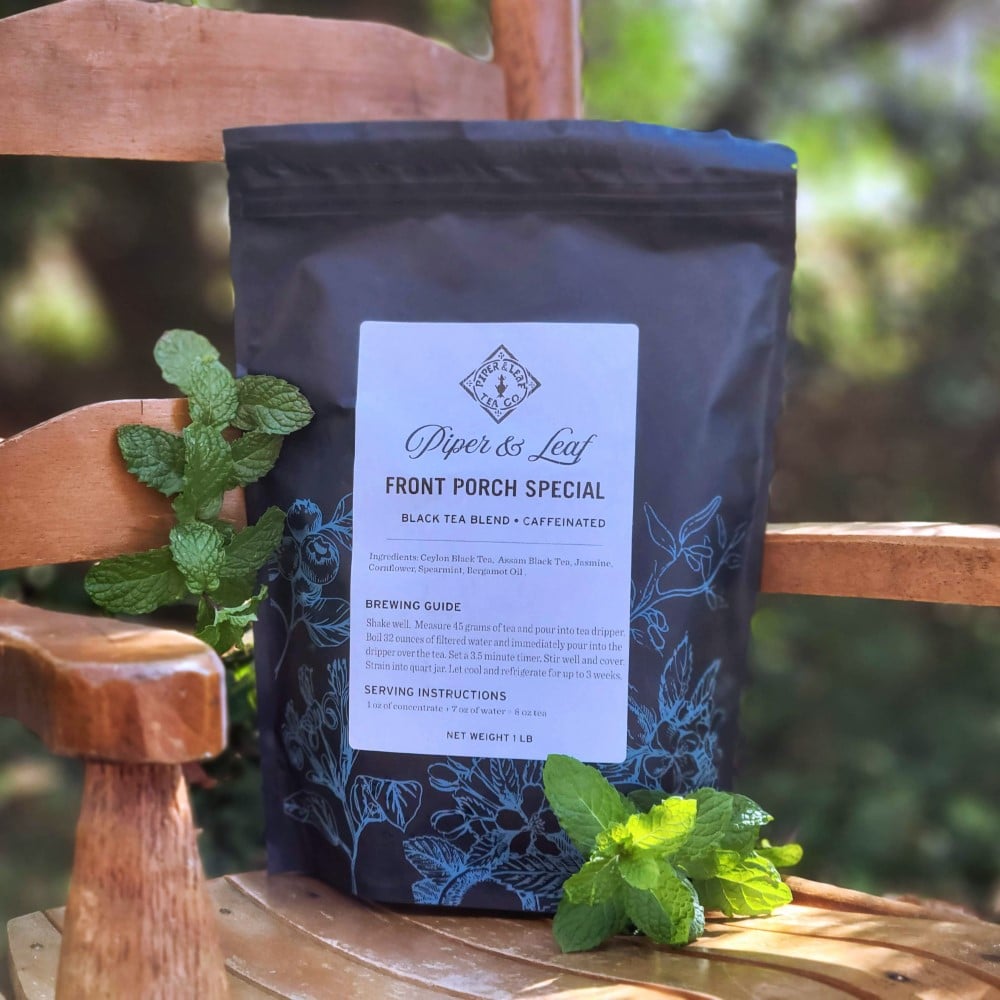 Front Porch Special
Imagine this Blend:

Exactly what it sounds like. All the aching and crisp nostalgia of a hot-weather, portico-framed sunset, accompanied by a cicada symphony. Local jasmine and spearmint collaborate with bergamot-infused Assam and Ceylon black tea leaves to pull off this sublime take on Americana.

Steeping Information

Bring 10-12 oz of water to 208 F.

Steep for 3.5 minutes

Ceylon Black Tea, Assam Black Tea, Jasmine Blossoms, Cornflowers, Spearmint, and Bergamot Oil

These are the Ingredients. Straight from the Farm, Forest, & Briar Patch.
I love everything I get from Piper & Leaf
By far my favorite!
This is by far my favorite tea with lemon berry coming in second.
Fantastic
This is the closest blend that I have found to one I got a couple years back on deployment overseas. When I got this the first time, I got it in a small pack and it was as close to the same flavor as I will ever find. It is my absolute favorite tea and I will drink it at any temperature. Being able to buy it in bulk made it even better!!!!! It has a wonderful soft flavor mixed with the nice robust Earl Gray flavor. It is absolutely delightful and refreshing!
Simply delicious
Awesome tea !! Fast delivery!!
Five Stars
Very good value if one is going to be drinking this stuff all the time. I do the concentrate approach and put the pound into 35 gram bags.
Five Stars
This is a delicious tasting tea!! Love it and make a big batch each morning to get us through the day!!
Shop More Front Porch Special
You might want to get this too:
Piper Press Brew Kit
Regular price
Sale price
$79.99 USD
Unit price
per
Sale
Sold out
View full details