Black Tea Blend

3.5 minutes in 212° water

Lightly Caffeinated
9 Servings

Gluten Free

Plant Based Pyramid Tea Bags
Vibrant strawberry with just a blush of lemongrass
Regular price
Sale price
$12.00 USD
Unit price
per
Sale
Sold out
LIGHT. CITRUS. REFRESHING.
Vibrant strawberry with just a blush of lemongrass.

"I am absolutely obsessed with this blend. It is so fruity and refreshing. Most flavored teas leave me wondering where the flavor is. This blend is so flavorful, it just leaves me wanting more."
– Kimberly (Lemon Berry Blush Muslin Bag)
Ingredients: Ceylon Black Tea, Lemongrass, Strawberries, Organic Elderberry Flavor
Caffeinated
Brew at 212 degrees for 3.5 minutes
Packaged in our hand-printed muslin bags, you'll find 9 pyramid sachets of tea ready to brew and waiting for you.
Ingredients: Ceylon Black Tea, Lemongrass, Strawberries, and Organic Elderberry Flavor
Share
View full details
Lemon Berry Blush
Imagine this Blend:

Bright lemongrass, non-intrusive but stately Ceylon black tea, and perfectly restrained strawberry. Beautifully simple, beautifully delicious. Sometimes the difference between a vulgar, utter lack of subtlety and a tea giving pure delight is as thin as a blade of lemongrass. Now we're making it blush.

Steeping Information

Bring 10-12 oz of water to 212.

Steep for 3.5 minutes

Ceylon Black Tea, Lemongrass, Strawberries, and Organic Elderberry Flavor

These are the Ingredients. Straight from the Farm, Forest, & Briar Patch.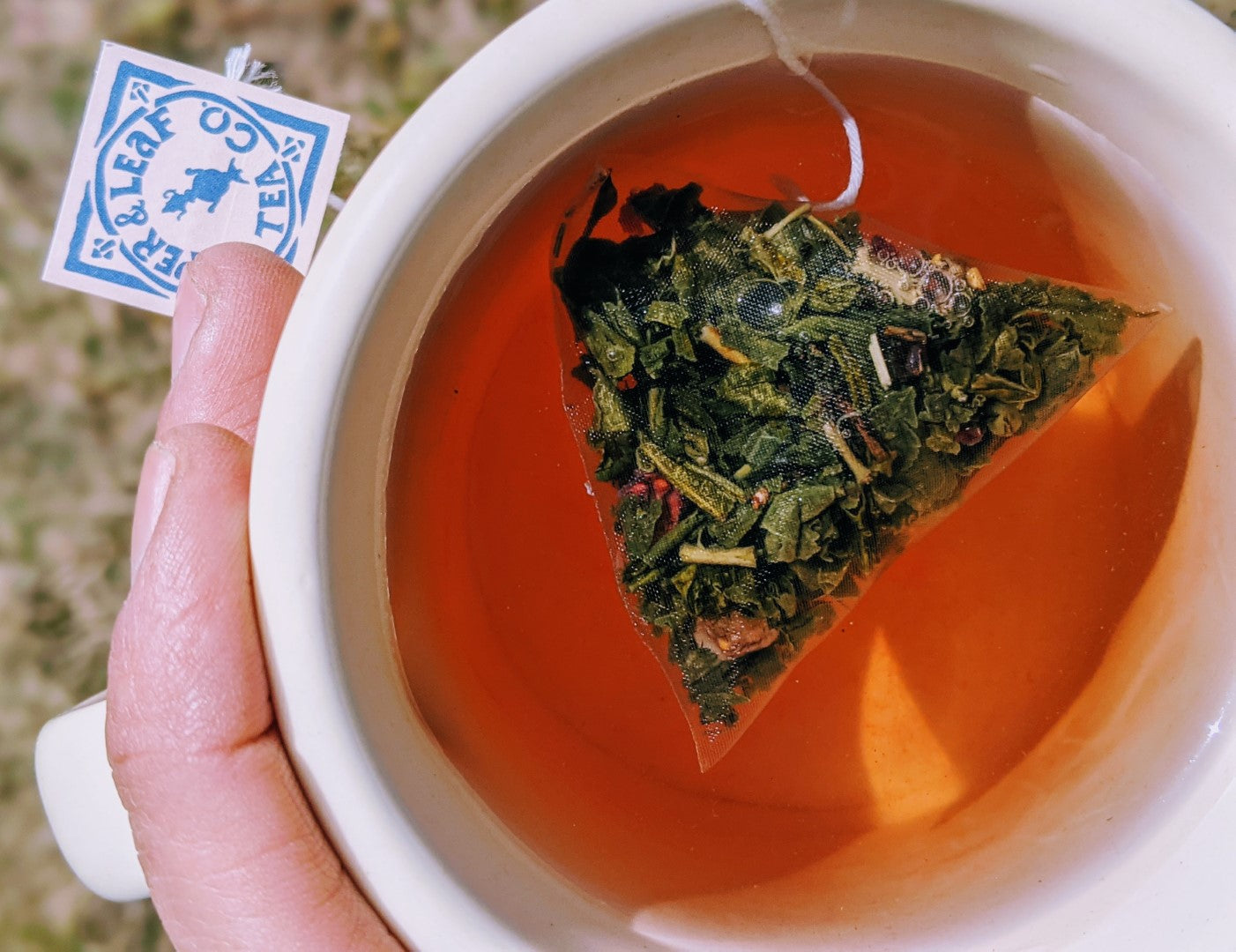 Tea Bags Made From Plants
I had to order more!
I shared with friends and it was so good I ran out. You can smell the berry in it and my friends loved it! Great 2023 summer tea!
Bought as a gift for a friend, shipping was fast and great packaging. Going to get some for myself now.
Lemon Berry Blush 9ct Tea Bags in Muslin
Five Stars
I went to a new bagel spot a couple of weeks ago where I had a strawberry lemon blush iced tea. I went back the same day for a large. It was immediately addictive and I didn't live local to it. So I ended up online looking tirelessly for something similar. I ended up on Piper&Leaf and I am SO happy I did. I ordered the tea on a Monday and it came Thursday! That was the first amazing part. Then I opened the bag and I'm telling you it smells like heaven. I made the tea and tried it hot and it was wonderful. I then made a pitcher of it iced... It is SO GOOD. I ordered another bag the following week because I had used all of them already! I'm going to end up being a regular for sure!
Five Stars
Delicious! Crisp and refreshing. My new summer favorite
Five Stars
Love this flavor! The bags make cleanup so easy! Super delicious! This tea is always so refreshing!
Shop More Lemon Berry Blush
You might want to get this too:
Super Sippy Travel Tumbler - Hot & Iced!
Regular price
Sale price
$28.00 USD
Unit price
per
Sale
Sold out
View full details