Fruit & Herb Infusion

7 minutes in 212° water

Caffeine Free
9 Servings

Gluten Free

Plant Based Pyramid Tea Bags
We brave the deep berry brambles so you don't have to
Regular price
Sale price
$12.00 USD
Unit price
per
Sale
Sold out
VELVETY. FULL-BODIED. SERENDIPITOUS BERRYGEDDON.

We brave the deep berry brambles so you don't have to.
"This tea is my favorite P&L tea thus far. So refreshing and fruity. I only drink this one iced. I bought this 1lb bag so I can make sure I always have some brewed concentrate in my refrigerator. I also bought a P&L Tisane Tumbler so I can make it on the go. It really is that good!"
– Kelly Bensen (Briar Patch Brew Pound Bag)
Ingredients: Hibiscus, Blueberries, Blackberries, Elderberries, Currants, Sage, Lemongrass, Natural Flavor
Caffeine Free!
Brew at 212 degrees for 7 minutes
Packaged in our hand-printed muslin bags, you'll find 9 pyramid sachets of tea ready to brew and waiting for you.
Ingredients: Hibiscus, Blueberries, Blackberries, Elderberries, Currants, Sage, Lemongrass, and Natural Flavor
Share
View full details
Briar Patch Brew
Imagine this Blend:

Brashly lacking austerity with its velvety, full-bodied texture and taut finish, the name does it justice. The pain suffered to harvest this delightful tea only accentuates its specialness. Blackberry bushes taunt all suitors to earn the right to taste their deliciousness. Not settling for mere dried-fruit status, the Briar Patch welcomes the usual cast of svelte surrogate tea pals: hibiscus and rosehips along with lemongrass and sage.

Steeping Information

Bring 10-12 oz of water to 212.

Steep for 7 minutes

Hibiscus, Blueberries, Blackberries, Elderberries, Currants, Sage, Lemongrass, and Natural Flavor

These are the Ingredients. Straight from the Farm, Forest, & Briar Patch.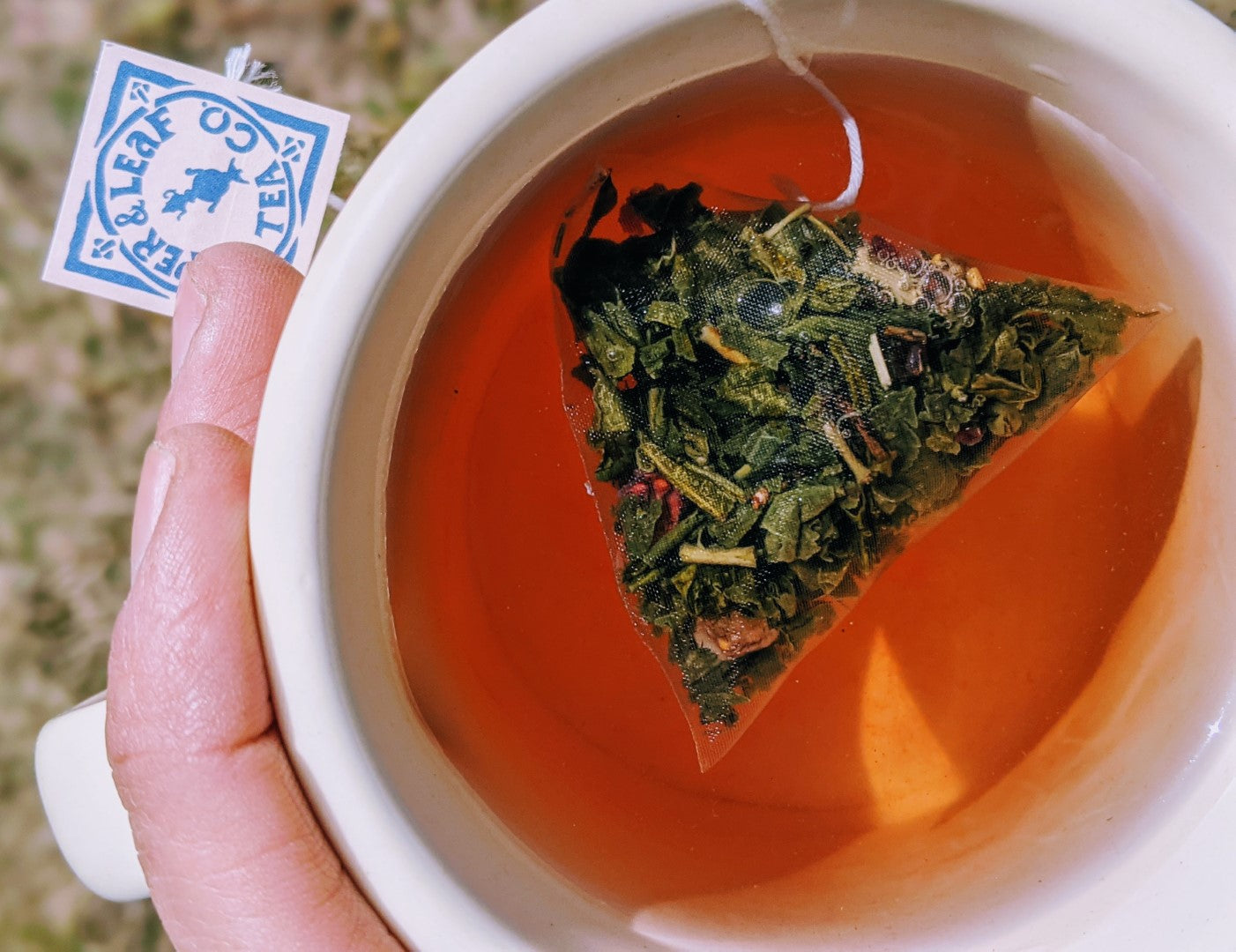 Tea Bags Made From Plants
The Briar Patch continues to please
Piper and Leaf's Briar Patch Brew remain one of my favorite teas! I don't plan to ever let myself run out! All those luscious berries just bled together so smoothly and the lemongrass sets it off perfectly. I find it invigorating in the morning and a great afternoon pick up. Hard to beat.
Love this tea!
I love to make a batch of iced tea with this in summer, but it's such a pretty color and amazing flavor I use it to make mocktails (with seltzer) year round. Add a splash of pomegranate juice and cran garnish, or serve heated and spiced instead of cider..and it's perfect for winter holidays too! A very versatile and refreshing tea!
Love this!
Was looking for an afternoon sit and enjoy break brew. This is just perfect. The taste is wonderful without adding anything, but someday I may try a little honey. Torn between sharing with friends and keeping all this goodness to myself.
Excellent value and product!
We really do enjoy our tea.
Five Stars
I was looking for a change in my tea. This was a serendipitous surprise. I love the berry flavors. I brew this 50/50 with black tea for a sweeter uplift to the usual. I don't do sugar or artificial sweetener and this hit the nail on the head. The flavor inspired me to go online and order a whole bunch of flavors to try. I bragged about how great this flavor was on my FB page, that family members in California ordered some. I can't wait to taste the next batch and to hear how much they loved it too!
Five Stars
I'm in love with this tea. It is absolutely delicious, I purchased 3 boxes.
Shop More Briar Patch Brew
You might want to get this too:
Super Sippy Travel Tumbler - Hot & Iced!
Regular price
Sale price
$28.00 USD
Unit price
per
Sale
Sold out
View full details