Introducing, the new....
1st 3 Shipments are Free!

Memorable Gift

Free Shipping
Regular price
Sale price
$4.99 USD
Unit price
per
Sale
Sold out
Experience 3 teas each week with our 3 Steeps a Week Subscription! Get a curated selection of 3 teas, with fun themes each time, allowing you to try something fresh and explore the world of tea in the process. 

HOW IT WORKS:
Each Wednesday we craft our letter, print, fold, stuff, and mail them out to you! This means that if you've signed up on a Friday, your first letter won't be mailed out until the following Wednesday! So if you'd like to order a letter and have it shipped out in the same week, be sure to do it before 11:59pm CST on TUESDAY! 

LIMITED TIME DEALS:
Subscribe to our weekly club, and, for a limited time, get your first three weeks free! After three weeks, pay only $4.99 per week.
Or, you can prepay with our 3 options. 
12 Week Subscription - Get 3 Free Weeks!
26 Week Subscription - Get 4 Free Weeks!
52 Week Subscription - Get 4 Free Weeks AND one of our beautiful Handmade Pottery Mugs!

Share
View full details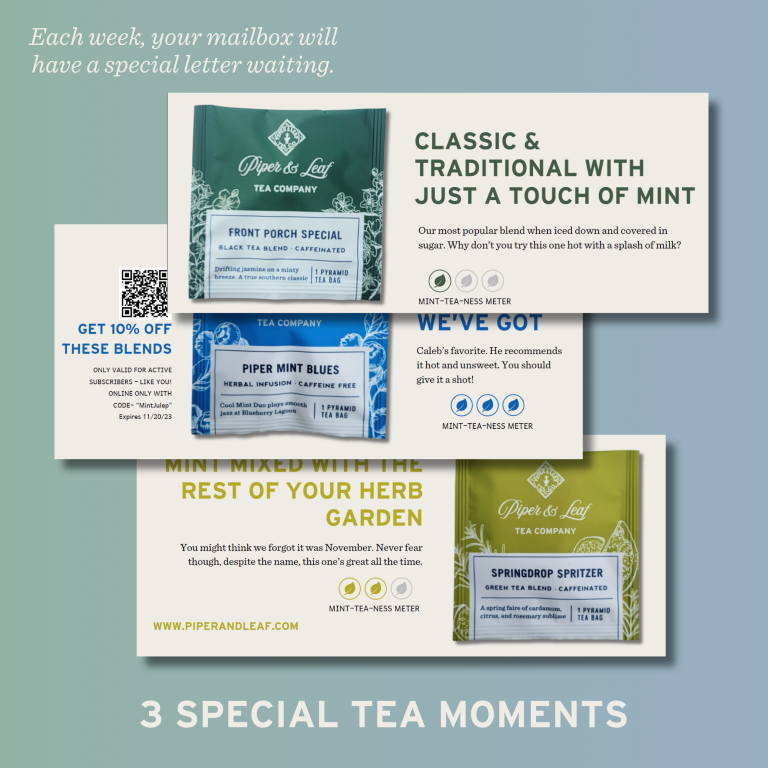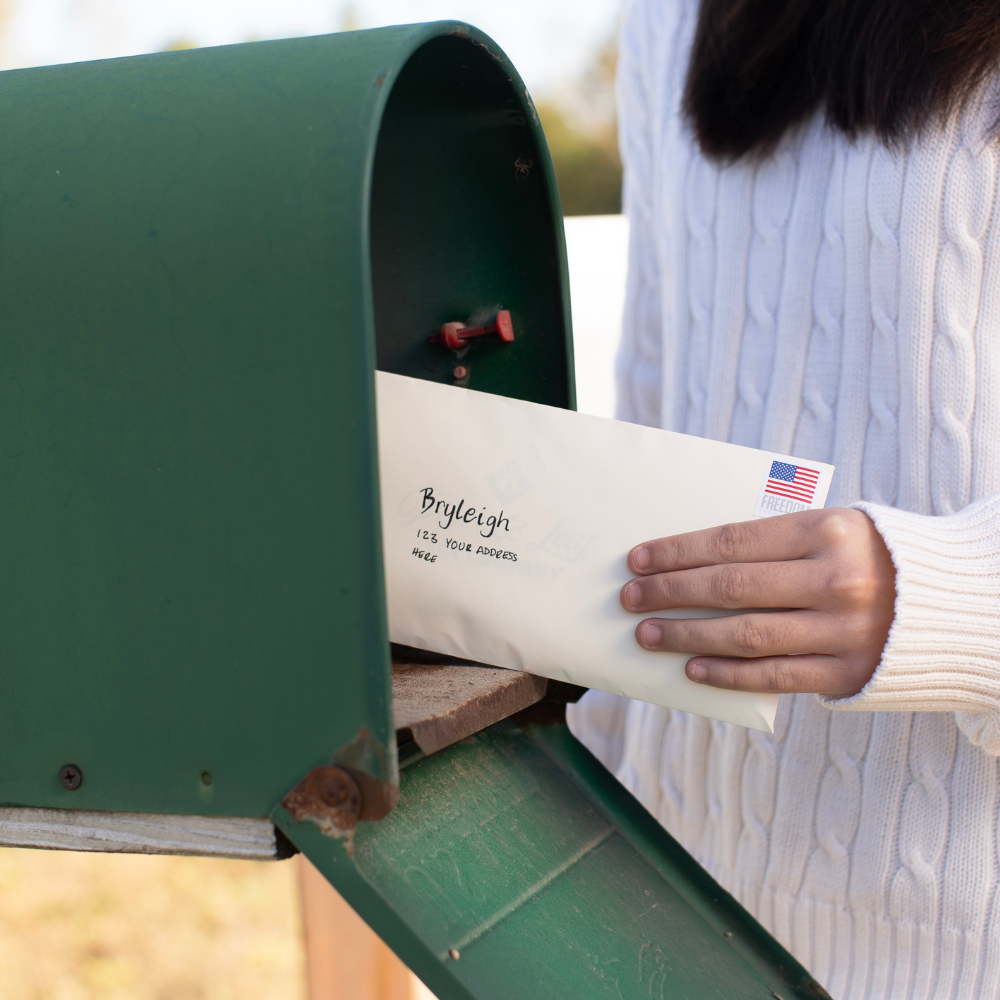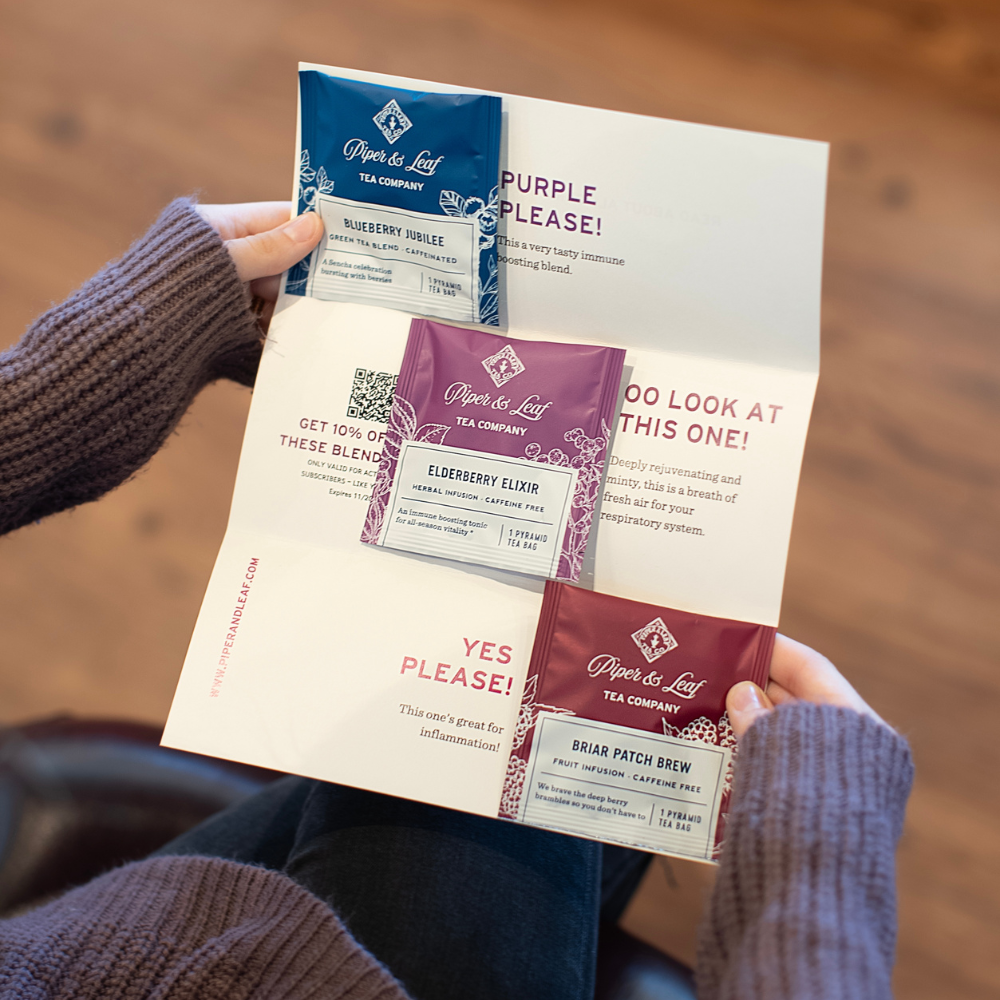 Briar patch brew
I loved all the flavors in the set , but the Briar patch brew was definitely my favorite. Piper and leaf have the best teas, I love how natural it is and they all taste amazing.
Absolutely Love!
I love being able to sample the various teas before buying a large amount. I have found that I'm not really a fan of the minty teas but love the black and green ones. I am especially fond of the new Blueberry! Thanks for the new subscription!
3 steeps a week
Your mailing of the 3 steeps a week is beautifully packaged with a nice letter telling of the teas . I was a little dissapointed in the last shipment because all the teas were the same , I was expecting 3 different blends . I do enjoy getting to try different ones and them coming straight to my mailbox .
Never received but still love piper and leaf.
I signed up for the three sips a week subscription, and upon signing up I was to get the first three shipments for free. I received a notification that charge of zero dollars would be occurring, seven days later, received the same notification, seven days later received notification that I would receive a charge of $4.99. During this time, I have yet to receive a single shipment of my three sips a week. Once I received the notification of a charge I cancelled my subscription. I do want to add that I know this is an oversight because Piper and Leaf is a great company (with amazing tea). My guess it has more to do with the Postal Service than Piper and Leaf. I will continue to buy Piper and Leaf tea from all of their brick and mortar stores.
Fun subscription service
This is a fun little subscription. Comes with descriptions of the teas and how best to enjoy. Says that the shipping is free, but I owed USPS money to receive my package.
best sampling idea
what a quick and easy way to try many teas--love it